What are Promo Codes?
Promo codes are incentives used by safelist or mailer owners to either reward their customers or entice prospects to join their programs. They are widely used in the industry but very often underutilize by users.
In this post, I hope to outline to you where you can find promo codes to beef up your ability to mail more often to more people.
Promo Code Programs
The first place to look for promo codes you can use to get out an extra mailing is the two major player in the game.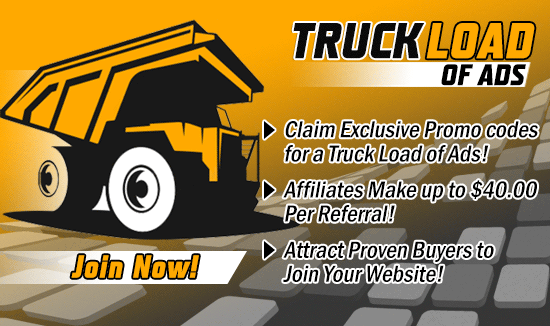 This one does require a ten dollar upgrade to take full advantage of the offers but, at that price, it more than pays for itself with just two of the promo codes you use, and there are hundreds of codes.
You can find the codes by clicking the tab, "Get Your Ads" then clicking the tab for "Safelists and Viral Mailers"
Many of my top twenty converting sites have codes here.
You can also use the codes as a way of testing new mailers and safelist before you invest any money in credits or memberships,
This site is owned by Darren Olander which means there are codes here for all of his sites top mailers. (More about that shortly.) The site is a little more complex as there can be multiple codes for a site. It is also a little easier to find codes. You just put in the URL of the site you are looking for and the search engine does the work. This saves time which I like.
There is also a Firefox or Chrome extension which will alert you when you visit a site that has Traffic Codex promo codes available.
I recommend that you become a member of both sides.
Admin Emails for Promo Codes
Quite a few sites offer promo codes in regular weekly admin emails. This can be a little tricky because we receive so many emails it's easy to miss them. However, if you use Gmail it is fairly easy to gather them in.
There is also a pattern to the sites that do this consistently. They are sites using a version of a viral mailer script like the one used my Free Advertising for You and Zombie Mails.
Here is a list of sites that I have used and which are either in my top twenty converting mailers or have been on the list at some time in the past.
Free Advertising For You.  One of my personal favorite site, with tons of activity due to the work of owner Jason. Once a week on Tuesday in his newsletter he offers a significant promo code and another for reading the weekly update at the website.
Zombie MailsThe new kid on the block and doing quite well for me. Todd Johnson is the owner and if you keep an eye on his admin emails you will quite often find promo codes. The last one I saw was for 2500 banner credits.
Viral Commissions This is one of Marci Jones-Fritz sites but operates a similar script. Again watch for admin emails to find promo codes. The last code was for 25,000 credits. Collect a few of those and you will soon have enough for a banner ad or with some patience enough to send out a solo ad.
Darren Olander Promo Codes
There are many more of these sites. Take a look at the sites you use like this and make a point of creating a filter for these sites so you can find all your codes in one place.
I wanted to talk about Darren Olander again because he does a monthly promo code for all six of his sites. He sends out a monthly notification on the 6th of each month for six of his excellent sites.
Here is the code for the month of December 2018 just in case you missed my email. (As a member of my list you will get this sent to you each month.}
This months promo code is 4GSYFIZS. Log into or join each site, find the Rewards Code tab and enter the rewards number. The code is usually for 500 mailing credits, but not always.
Kenny Kolijn not exactly promo codes
Kenny Kolijn is the co-owner of some of my favorite sites. He promotes a lot of programs, and quite often to entice you he offers credit packages to you if you join under him. While this is not exactly a promo code they work the same way, and I've managed to accumulate a large number of credits on five of his sites.
Welcome Promo Codes
Nearly all mailers offer promo codes when you sign up. Look for these on the home page once you login. The code is usually "Welcome" or "NewMember" and it is usually enough to get you started with a mailing, some banner ads and text ads.
Summary
Of course, the danger in doing a post like this is that I'm going to leave someone out.
So if I've forgotten anyone that consistently uses promo codes and (very important) their sites convert well, I'd like to hear about it and add them into this post.
That's the benefit of doing a post, unlike an email it can always be updated and ready for the next person who reads it.
So I hope I've alerted you to an important part of using safelists and mailers.
With very little effort you can squeeze out extra mailings of your ads.
What was your biggest take away from this article?
© Nick Grimshawe